Located in Shoreditch, Liberty Dentists is a modern, friendly dental practice, which offers a comprehensive range of cosmetic and general dental treatments.
The practice is equipped with state of the art technology and has a warm, calming ambience. 
We recognise that choosing a new dental practice to attend is a very important decision and we are committed to ensuring that we exceed your expectations and provide a service of the highest quality.
Our friendly team is led by Khalisur (Kal) Rahman
Kal graduated from Birmingham University in 2001. He provides a wide variety of high quality dental treatments, while maintaining a gentle and caring approach in a relaxed and friendly environment.
Kal aims to help patients understand their treatment and how best to prevent dental issues, and works with them to provide the best results possible for each individual.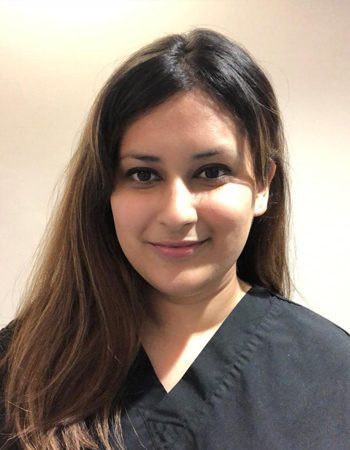 Sabrina is the team's hygienist, having been qualified as a hygienist therapist since 2012.
Sabrina trained as a dental hygienist at the Dental Training University of Portsmouth. She completed further study to become a hygiene therapist at Teeside University, and continues training to become the best hygienist she can be.
Sabrina is available at the practice for hygiene appointments on Tuesday's.
Zoe is the team's smile consultant, handling any questions patients may have about getting the perfect smile.
Zoe is a recent law graduate with an interest in dental nursing, but first and foremost she is the friendly face at reception to help you out with your appointments. 
Sumayah is the team's leading dental nurse, having qualified in 2014 as a dental care professional.
Sumayah is trained to help with nervous patients, with a variety of experience she is able to effectively work with all our patients as well as manage the practice efficiently.
Nikki is the team's dental nurse in training, she is currently studying to complete the dental nursing course.
Nikki is interested in aesthetic dentistry and in future would like to work at the practice with patients looking to improve their smile.
High-quality treatment
Liberty Dentists delivers high-quality private care that is clinically effective, safe, and delivers a positive experience for all of our patients.
Dedicated staff
Our dedicated team is always happy to help and advise you during your visit to Liberty Dentists.
Modern dentistry
We have a cutting edge team of dental professionals who will ensure that you are provided with the ultimate level of care.
If you have any questions or queries, please use the form below, or if you would prefer, please give us a call on 0203 137 9965.